The Heroine's Journey in Paris: Testdrive Your Dreamjob
Yes, you can try your hand at the business of your dreams without risking your present job or business, your next mortgage payment, or your kid's future. In The Heroine's Journey in Paris: Testdrive Your Dreamjob you will discover how meeting your rolemodels and their stories and spending anywhere from one hour to a few days talking about your own story about you and the storytelling profession you always wanted – can be the first step toward making that dream come true.
Revolutionary and practical, this hands on travel program designed by Peter de Kuster – will help you mesh your working life with your deepest sense of self as you learn how to:
Plan a "Testdrive" of your own;
Build the skills and gather the knowledge you will need to embark on your new profession;
Overcome the fear of changing;
Turn a layoff or other involuntary change into the opportunity of a lifetime;
Design and create a dream business that doesn't exist …yet;
Manage a smooth, safe transition from your present job or profession to your dream business.
Minimize financial risk as you embark on your bold new life
Creative people have made a testdrive in their dream profession for centuries and many generations. Talking to or even working with somebody who does the creative work they would love to do or explore. For architects, artists, designers, writers, cooks, actors it is quit normal. Mostly however something you do at the start of your creative career. You can do it any time in your career however. To sharpen the story you tell yourself about you, your work, your business, what you are capable of doing. In meeting a mentor, somebody who has the creative profession of your dreams and makes money with it.
Years ago I started advising creative people who started their profession to testdrive your dream job. Speaking with a heroine or hero who has your dream profession. It can save you years and a lot of money having direct feedback and stories of someone who does what you feel you would love to do. Almost everybody who has made a testdrive has come out of it with a more clear story and more determination than ever to make their dream profession come true. They landed exciting projects, started an education or found other ways to further their dream business. After years of fantasizing their meeting with mentors has given them in hours or days the strength to come into action.
Partly this was due to a learning effect – the concrete knowledge they gained about the profession of their dreams. Partly it was the mentor who held their hand, gave their confidence a boost en offered them help. Partly it was the contacts they made, which made the next steps more simple.
But the most important of all, next to these practical matters, was something different. The testdrive awakened and gave energy to something deep inside of them, a part that once awakened, refused to be ignored. Know that when you consider a dream profession it not only is about how you spend your hours at work. It is about the connection between your work and the deepest feeling about yourself. It is about doing what you love, work that energizes you instead of exhausts you, work which has meaning for you.
Twelve reasons for The Heroine's Journey in Paris: Testdrive Your Dreamjob
1. To make a testdrive before you commit yourself to a profession
2. To find a mentor
3. To learn about the ins and outs of a profession
4. To make contacts in a profession or market
5. To raise your confidence level
6. To explore a passion
7. To satisfy your curiosity about ' the road not taken'
8. To test possible businesses when you don't know yet what you want
9. To make an unusual, exciting journey
10. To try out something new and challenge yourself in new ways
11. To create a new story about yourself, your present company, job, lifestyle and future
12. To reconnect with some passion(s) inside of you
Your Travel Guide
Story teller Peter de Kuster is the founder of The Heroine's Journey en The Hero's Journey and an accomplished speaker worldwide. His books and stories about the Hero's Journey – making money doing what you love – have reached millions of creative professionals worldwide in the last decennium.
Read on for a detailed breakdown of The Heroine's Journey in Paris
What Can I Expect?
Here's an outline of the Heroine's Journey in Paris: Testdrive Your Dreamjob
INTRODUCTION
Meeting your rolemodels as a concept is almost six hundred years old. People who travel to discover their vocation.
After years of fantasy something about living the job and the life for just a few days, weeks or months empowered them to take action. Partly it was the learning – the concrete knowledge they gained about the desired profession or business. Partly it was the mentor who held their hand, boosted their confidence, and offered ongoing help. Partly it was the contacts they made, which made taking the next steps easier.
But above and beyond those practical things, there was something else their journey awakened and energized something deep inside them. It connected them with the truest part of themselves, a part that had previously felt dormant and that, once awakened, refused to be ignored.
You know – if you are considering a dream job – that the push toward a dream career is not just about how you spend your working hours. It is about meshing your work life with your deepest sense of self. It is about having work that matches your values, that feeds instead of exhausts you, that does not require you to leave your priorities at home and check your heart at the door. When we imagine a dream job, we imagine a job in which we are fully ourselves, in which our hearts and minds are equally engaged.
This engagement is what people feel while vocationing. And once they reconnect with that deepest sense of self, few are willing to return to their status quo.
Which of course brings up the next question: what happens after the Testdrive? You go; you fall in love with a career; you leave fired up to work in your chosen field… and then what? Sure, you had a great couple of days; sure, you know what you want to do – but there is a gaping chasm between wanting and making it happen. And when you look down into that chasm it is brimming with house payments, car payments, college educations, health care, food bills, utility bills. How exactly do you take the next step?
The question is its own answer. You take the next STEP. The next small step. The biggest surprise for people who find or create their dream job is that it does not have to happen all at once. It does not have to be an all – or – nothing, hold – your – nose leap from security into the unknown. Instead, it can be a series of small steps that you take only as you feel ready. Sure, there are the few really bold (or independently wealthy) people who cut the ties to their previous careers and hurl themselves full time into new ones.
But most people take it more slowly. They continue at their current jobs while transitioning gradually into the dream. They do research, they write a business plan, they figure out how to begin the new career without taking on more risk than they can handle. Some go to school to get more training. Some dedicate a period of time to paying off debt and building savings so they will have funds for their new careers Some find work in the new field while they put together a business of their own. The path and the timeline vary from person to person; what they all have in common, though is the passion and the vision to move ahead.
IN THE FOOTSTEPS OF JULIA CHILD
We travel The Heroine' s Journey in Paris – Testdrive Your Dreamjob in the footsteps of the famous American French Chef Julia Child. Mainly illustrated by the movie Julie & Julia where a young woman chooses Julia Child as her rolemodel. We will visit many of the places that Julia also frequented during her life in Paris. Julia Child has been described as America's French chef and is famous for her cooking, her books and as host of her acclaimed television show, The French Chef. Let's go find Julia Child's Paris together.
Julia Child moved to Paris with her husband, Paul Child, when his foreign service job took him to the French capital and from her very first Saturday in Paris, when she and Paul enjoyed a typical French breakfast, (café complet) of coffee and croissants at the famous Les Deux Magots cafe, she went on to explore the complex world of French cuisine.
Both Julie and Julia captured our culinary imaginations in this classic 2009 movie. If you love French food and Paris you've gotta love this film. Julie and Julia weaves a narrative about Julia Child drawn from two books — Julia Child's autobiography about her time in Paris, My Life in France and Julie Powell's book, Julie & Julia: My Year of Cooking Dangerously about cooking her way through Julia Child's classic Mastering the Art of French Cooking.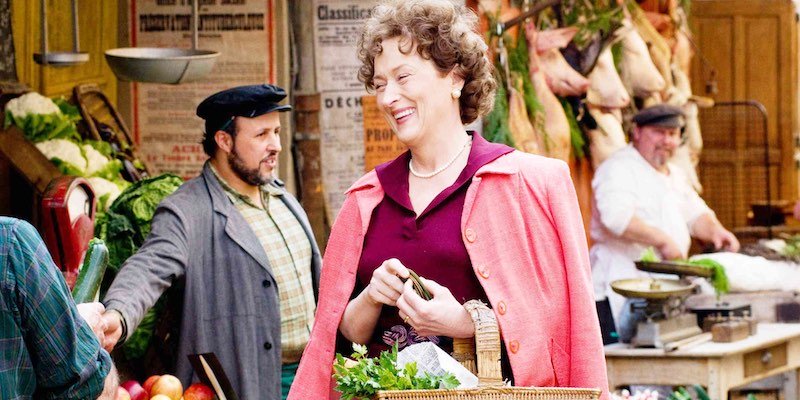 One of the biggest Paris scenes in the movie took days to plan and shoot on the narrow, winding market street of Rue Mouffetard in the Latin Quarter. For centuries there has been an outdoor market here, one of the oldest streets in Paris. And remember the scene where Julia takes her cooking students shopping? That was shot on the Paris islands, Île St-Louis and Île de la Cité.
Rue Mouffetard, 5th Arrondissement
Île St-Louis, 4th Arrondissement
Île de la Cité, 4th Arrondissement
Restaurant Deux Magots, 6 Place St-Germain des Prés, 75006
Restaurant Le Grand Vefour, 17 Rue de Beaujolais, 75001
Shakespeare & Company Bookstore, 37 Rue de la Bûcherie, 75005
Restaurant Au Pied de Cochon, 6 Rue Coquillière, 75001
E. Dehillerin Kitchen Supplies, 18 Rue Coquillière, 75001
Les Deux Magots, Shakespeare and Company and E.Dehillerin
As Julia became more familiar with Paris and visited the fresh food and flower markets, cafes and bookstores, she found herself regularly at the English bookstore Shakespeare and Company searching for books on French cooking. In time she became inspired with the idea of writing her own books on how to cook French food for Americans.
Starting her culinary journey by enrolling in Paris' famed cooking school Le Cordon Bleu, Julia spent many hours perfecting the recipes taught in school at home. Purchasing the essential cookware while a student at the Le Cordon Bleu cooking school was easy enough with many stores stocking essential items. One such store that Julia loved, and that still stocks everything you could possibly need, including a huge range of copper pots and pans is E. Dehillerin, which has actually been supplying Parisians with kitchenware since 1820.
Once you step into this old-world shop, you'll be surprised at just how modern and organised it is behind the scenes even if they don't look like they even know what a credit card looks like. With friendly service and a home delivery option, E. Dehillerin is one of my favourite Julia Child haunts.
Mastering the Art of French Cooking Volume I and II and The French Chef Cookbook
Recording her cooking attempts and wanting to share French cuisine with her fellow Americans, Julia started writing her own cookbooks that ultimately made her into a household name and inspired countless others to prepare French recipes and appreciate French food.
"Julia's legendary first cookbook (1961), co-authored with Simone Beck and Louisette Bertholle, launched her career and changed America. Born from Julia's discovery of her love for cooking and eating while living in France, Mastering the Art of French Cooking, Volume One is a comprehensive guide to the fundamentals of French cuisine. Considered by many to be one of the best and most important cookbooks of all time, it's an essential part of every cook's library." – The Julia Child Foundation
The next couple of books written by Julia also went on to wide acclaim – Mastering the Art of French Cooking, Volume Two (1970) and The French Chef Cookbook (1968) which is described as "for the millions more who have yet to see Julia Child's groundbreaking television series, this book contains the complete collection of recipes from the cooking show".
Rue Cler was an often frequented area with its restaurants and shops and Julia loved to spend time here. She also loved Au Pied de Cochon, the brasserie which is known for its round-the-clock service and onion soup. If you have time in Paris, I really recommend you dine at this brasserie as it's one of my favourites with an extra amount of side walk tables, vast menu and a very cute pink pig meringue served complimentary at the end of your meal, it is a Parisian institution. As the name suggests, pork is at the centre of its menu. The added bonus of dining at Au Pied de Cochon is that it is just down the street from E. Dehillerin.
Julia and Paul also liked to dine at Le Grand Véfour in the Palais Royal, choosing to dine there once a month being such a favourite. Le Grand Véfour, which dates back to 1784 is definitely worth a visit if want to follow in the footsteps of Julia Child.
During the Heroine's Journey in Paris – Testdrive Your Dreamjob in we wine and dine in the same historic cafes, visit fresh food markets, walk the same streets and buy your own cooking utensils with us.
JUST DO IT
Behavioral economists, who look at how people make choices, are well aware of the fact that we tend to choose the thing that feels most desirable in the present and postpone a harder or riskier choice until the future.
Fortunately, they have also noted ways that people work around that. One solution is to precommit, that is to take an action that requires you to make that more difficult choice now.
Precommitment is also an excellent strategy for circumventing fear. When you book a Testdrive in Your Dreamjob now you can't talk yourself out of it. You are precommiting yourself to something that felt scary. That way, when the time comes, if your brain's limbic system urges you to put off the testdrive, you would no longer have the option.
Throughout this hero's journey there are many ways you can precommit to circumvent your fear: schedule a Meet Your Heroines three months in the future because that far away it won't seem so scary.
Don't commit if on every moment you question the decision, but do commit if in your heart you know your course is right and it is only fear that is making you waffle.
FEAR
If you are wishing for your dream job but are immobilized with fear, how can you go past that fear?
Let us take a moment to look at your nemesis, fear. When it comes to fear we are little better than rats. Brain research shows that we are wired to choose instant gratification over long – term gain. Much as we want our dream jobs, our brain's circuitry pushes us to stay with the secure jobs we already have. In other words, now we want our steady paycheck, in the future we will risk pursuing the job of our dreams.
What causes us to favor the immediate over the long term? It is not simply impulsivity. It is caused by the interplay between our brain's limbic and analytic systems. The limbic system, the seat of our feelings, controls our emotional response to situations. It functions a bit like an impatient child: strenuous, demanding and wanting immediate gratification. The analytic system, on the other hand, controls our thoughts, and more closely resembles an experienced lawyer, staying cool and rational even under stress. Whereas the limbic system places a premium on rewards in the present (it wants what it wants now) the analytic system values future rewards just as highly.
Apply this to leaving our current jobs and pursuing dream jobs and you can see how, in a sense, our brains are wired against us. Our analytic systems can do a stellar job acknowledging the long term benefits that come from working jobs we love, but our volatile, protect – me – now limbic system starts to hyperventilate at the idea of losing the secure job we have now. No wonder we have a hard time getting past our fear!
And as if our own physiology were not obstacle enough, there are plenty of other factors that encourage us to stay where we are. Money, family, loss of identity, fear of exposing the ' real you' , the 'fraud factor' (that voice in our heads that says – you mean you think you can succeed at that??') are all steely – gripped forces that work to keep us where we are.
But they don't always keep us where we are. Despite the fact that everyone faces those hurdles, some people manage to surmount them and move forward toward their dreams. People with nothing in the bank quit their jobs and open successful businesses. Sole earners with families to support move cross country to work at starting wages in their career of choice. People who have spent years building respect and credentials in their profession chuck it all and go back to square one in another. And people who are terrified to expose the dream they have sheltered inside for decades manage to give up the career that was expected and take up the very different kind of work they love. How do they do it? What enables them to put aside their fear and take the risk?
Often when I describe The Heroine's Journey – Testdrive Your Dreamjob, the process of dream job seeking, people will say, ' Well I could not do that because I am not the right kind of person" as if there were a certain personality type that is capable of making the switch. I know what they mean. They have the idea that the type of person who can successfully pursue a dream job is someone who is exceptionally gutsy (or perhaps foolhardy) is very decisive and assertive; has a high tolerance for risk and ambiguity and has a history of creating opportunities and trying new things.
Kind of Hemingway type.
I suppose if I had not seen so many different types of people successfully create their dream jobs I would assume the same thing. It is not so. Successful creative heroes seem to come in all personality configurations. Some are so assertive they resemble bulldogs, while others seem so timid you wonder how they are able to ask water in a a restaurant. Some have a history of starting new ventures and others have worked entire careers in the same job. Some rattle off decisions with force, others deliberate until the last possible moment – and then change their minds!. Whatever you imagine the right personality type to be, I am sure I can find you a rolemodel who turns your stereotype on its head.
But that is not to say that successful dream job seekers don't have anything in common. They do. The more people who make their money doing what they love I talk to, the more I see certain stories they tell themselves that most of them share. Regardless of their proclivity toward risk or their level of assertiveness, they have similar ways of telling themselves stories about life and themselves that make it easier for them to proceed.
A clear story. Successful creative heroes tend to have a clear image of what they want to to. It may be a particular job, it may be a type of work, it may be a lifestyle and a location. Though the level of specificity and detail varies with the creative professional what they share is a clear mental picture of themselves doing that kind of work. The clarity of the image acts like a magnet pulling them forward. When they meet obstacles along the way, that magnetic image rallies them and keeps them moving toward it.
Optimism. In addition to having a clear vision, successful creative heroes believe that their vision will pan out. Otherwise, they would not do it!. Some have a general confidence in their own abilities based on a history of success; others believe that this particular venture is primed to succeed. They know that failure is possible (and occasionally can't stop that fear from creeping in) but most of the time they anticipate success as if that were the far more likely option.
Comfort with failure. When they do consider failure they don't become terrified. Their attitude is 'what is the worst that can happen?, whatever it is we will deal with it" They imagine a period of difficulty and adjustment after the failure, and then life moving forward positively once again.
A high self – standard. Over and over, in different words, I hear creative heroes express the same sentiment: I would rather try and fail than know I did not try. I don' t want to grow old and wonder 'what if I had tried'? It is a recurring story: what pushes them past the fear is the knowledge that by not trying they will be letting themselves down.
Not everyone who makes the switch has everyone of these factor, but the people who successfully undertake dream careers seem to have most of them. Together, these attitudes make a package that seems to make it easier for people to move out of their comfort zone and try something new.
But even these attributes don't fully explain why some people switch and others don't. Something is still missing from the equation. And that missing something, I believe is urgency . People who make the switch have reached a point in their lives at which they simply have no choice. It is no longer a matter of wanting to make a change. They have to.
There is a moment when the pain of staying put outweighs the pain of making a change.
And that is a magic moment – because the moment we cross that line, things that previously felt like insurmountable fears begin to look more like manageable hurdles. Now on your way to work you find yourself dreaming up ways to overcome them.
Instead of wishing they were a way that you could move forward with the dream, you find yourself thinking about how you are going to do it. Instead of imagining some vague, open-ended timeline, you start fixing your actions to concrete dates when you know you will be able to act.
An enormous internal shift has taken place, and now even such major fears as money, family, identity and exposing the "real you" begin to lose their insurmountable quality. As if a locomotive has begun rolling inside you, from that moment on, you steadily gather momentum.
THE SEARCH FOR MENTORS
The Internet is the place to start your research into your dream job, but it's not the place to start your research, but it's not the place to finish. If you only the Web, you'll end up with stacks and stacks of material and a decent theoretical knowledge of the industry but there will be a lot you won't learn. You won't learn much about the pragmatic, human side of the business. What are the people like who work in that field? What has their experience been? How is this career as a lifestyle? How much do they really spend and earn? How long did it really take them to be up and running. Unfortunately, unless you're incredibly gregarious and fearless, contacting real people is harder than just sitting in your house and scrolling, especially if you feel as if you are asking a favor. But meeting your rolemodels will give you a much more accurate picture of your dream field.
How do you contact complete strangers and tell them you want to learn about their field?
Start by making a list of questions you want to ask them. You won't get to ask all those questions in a single phone call, email or visit, but listing them will help you organize your thoughts.
Prioritize your questions. You want to ask your important questions first; you don't know how long you'll get to talk.
Go back to your research and pick out five or six people you're going to contact. It doesn't matter who or where they are; they can be people who are doing exactly what you want to do, or simply people who are knowledgeable about the industry and they can be in your own city or anywhere in the world. Ultimately you'll reach out to many more; these are just to get you started. Having a target five or six will ensure that you don't quit if the first one is unresponsive.
When you have contacted someone in your dream job, be sure to ask your contact who else you should talk to. Who else does he/she know who might be helpful to you.
You will be surprised at how fast the contacts and ideas build up. Each contact will lead to others and will suggest ideas you had not thought of, and soon your desk will be cluttered with notes and folders. It won't be long before your questions become more targeted, and you find yourself actually enjoying the process.
How do you know when you've done enough research? There is no hard-and-fast rule. Some people love researching and won't stop ever. Others just want to jump in and get in action with their dream business. Both are fine. You will do more research after your testdrive. For now, the time to stop is when you know enough that you just can't wait to move on to the next step, contacting potential mentors.
If you're not getting to that point – if you reached 'analysis paralysis' and, despite information overload, are still resisting shopping for a mentor – perhaps there's something else going on beyond a need for more data. It's likely that you're afraid. If that is the case go back to the step about 'Fear' and rewrite your story about it. Addressing that fear head on will probable free you to move forward.
Or it is possible that your resistance holds another message: maybe the career you're researching is not your dream career after all. That can create its own form of paralysis. How can you walk away from that career after all the time and energy you've already invested? What will your friends, family and associates think after everything you have told them? And if that isn't your dream career, what is? There's comfort in knowing what we want to do with our lives, in sensing what the next chapter holds, and releasing that comfort can be scarier than never having a dream to begin with. No wonder we feel paralyzed if research shows us that our 'dream career' isn't.
If that is the case, try to relax and accept it. Another dream will come – just as this one did – but it can't come until you release the old one. In fact, having had this dream sets you up perfectly for finding the next one. You've already done the hard work of relinquishing the hold of the status quo. You had the courage to publicize a dream. Who says the first dream has to be the 'real' dream? Dream job seeking is a process. It isn't linear, it isn't left brained. It is a circuitous path of back and forth, left and right, exploring options. The goal isn't to do or become a certain thing; it's to find out who you are and what kind of work meshes with your deepest self. If you've gotten to the point where you've had a dream and learned through research that it isn't the proper fit, you have taken a giant leap in self – knowledge. You are primed to pursue your next idea. Relax and it will come.
QUESTIONS TO ASK
Your research at this stage does not need to be exhaustive. You'll be doing more research with your mentor and even more after your testdrive. Right now you just want to get a basis education in your prospective field. Here are some things you'll want to know:
Lifestyle
What is the typical lifestyle of people in this field?
Are there opportunities where I currently live or would I have to move?
Finances
What kind of money do people tend to make in this field – initially and after several years?
What kind of investment is necessary to get into the field?
Education
What kind of education or training do people need to succeed in this field? Are there exceptions?
The Profession
What are the current trends in the profession? Is it expanding? Shrinking? Saturated?
Where are the new opportunities in the profession
What are the biggest challenges facing people in this profession?
What is the success rate of people in this profession to make money doing what they love?
This is just a starter batch of questions; you'll think of many more as you do your research. Later, when you work with a mentor you'll get a chance to ask much more personal questions: "What has your experience been? How do you think this applies to me? After your testdrive you'll focus on how to move into your dream career. But this is your chance to sit back and just immerse yourself in your dream. There is nothing you have to do right now except have fun learning.
TELLING YOUR STORY
Part of what makes it scary to tell people you are thinking of trying something new is that it raises 'exposure fear': What if they don't approve? What if they laugh at me? What if they think I can't succeed? But the fact is, until you talk about it, you won't succeed! You need the info and contacts that come from talking, and you need the support that talking can bring.
Just as important, you need to hear yourself describe your vision over and over again – because each time you hear yourself say it, something magical happens: you believe a little more it will happen. The first time you say it, it sounds like fantasy – me a banker, becoming a movie director? By the twentieth time, though, with all you've learned, the vision will have evolved. Details will be added; the vision will be more concrete. With other people's stories under your belt, you may even be imagining the bridge from here to there. What once sounded like a fantasy is starting to sound more like the beginning of a plan.
But until you start believing in that plan, it will never come to pass. At root, we are all a set of self – fulfilling prophecies: we accomplish what we believe we will accomplish in our lives and nothing more. So practice believing in your dream career. Talk it up in glowing, confident terms, because the more clearly and often you describe it, the more you enable yourself to make it real.
Of course, some people will be naysayers. It's unavoidable. Some people just naturally leap to the negative, some will be jealous that you are making a switch that they themselves are or were afraid to make, some will always value 'practicality' over passion. That's okay. Once you find out who your naysayers are, just don't talk to them about your plan. If they bring it up, gently change the subject. Fortunately, for every naysayer you will find multiple supporters: friends, family, colleagues and new people you meet will rally around to prompt you on. Some will root for you because they love you, some because they wish they could do such a courageous thing themselves, some because they can't wait to become customers of your business! The support you get from the people you talk to can be so valuable that you won't be able to proceed without it. Every creative professional who tells their story in the Hero's Journey and Heroine's Journey project has said the exact same thing — I could not have done this without the support of and then they mentioned names of family and friends who urged them on, who encouraged them when they felt down, who continued to believe in them and their vision all the way through the process.
FINDING THE RIGHT MENTOR
Why are busy working people so eager to help strangers enter their business? Why are they willing to take time away from their work? To disclose trade secrets? To train their own possible competition? They do it for a number of reasons?
They love what they do and they love sharing it with others (Don't you get excited talking about the things you love – especially to people who also love them?)
They want to give back for all the help they received when they were getting started.
They want to give to others what they didn't get themselves, to spare others their own mistakes.
They like the energy that a passionate newcomer brings.
They enjoy the act of teaching and the pride that comes from being asked for advice.
They believe in their occupation and want to see the profession grow.
They're reminded that they have dream jobs themselves, and appreciate with fresh eyes how much they have learned and accomplished.
A MENTOR OF YOUR OWN
So – mentors are out there, ready to cooperate. The trick now is to figure out which of the potential mentors is right for you. Here are some things to look for:
Passion. First and foremost, look for people who are passionate about their work. As you visit people to interview them, look and listen for signs that they genuinely love their profession. Who wants to learn from someone who is bored and burned out?
Expertise. Look for someone who is an expert in the profession. Perhaps you have already heard about someone with a great reputation. If not, once you narrow your search to one or two prospects, ask others in the field about them. How are they regarded?
Teaching ability. Look for people who are good teachers. It's not enough to be an expert in the field; your mentor needs to know how to transmit knowledge to you.
Longevity. If possible, pick someone who has been working in the dream job for five years or more. By that time the mentor will have worked out most of the bugs in the job or business. Will have demonstrated staying power, and will have a longer – term perspective to pass on.
Connection. Most important, pick someone with whom you 'click'. You want to be able to ask all your questions, be entirely honest, share your fear and your excitement, feel comfortable, and have fun. In short, you want someone who makes you feel at home. If you have a choice between a more experienced mentor who is a little distant and a less experienced one who treats you like an old friend, go with the latter. You can always do a second vocation with the more experienced mentor later. Make your first one as comfortable and fun as possible.
Nowhere is it written that you have to have only one mentor. Once you've found your first mentor, and done your testdrive, you may decide there are things you'd like to learn or experience with someone else. A different mentor in the same profession can give you another perspective on the dream job or a chance to practice what you've just learned. A mentor in a related profession can give you experience that complements and extends what you've already done.
Most people go into their mentor relationships hoping for advice, encouragement, and maybe a few contacts, and sometimes they come away with more, long term business partnerships. Whether in formal working relationships or informal, ad hoc arrangements, dream job travelers and mentors often continue their relationships in ways that are mutually beneficial.
DOING THE TESTDRIVE
Start by thinking seriously about what's important to you. You're pursuing a dream career because you want to live from your heart. What exactly does that entail? Does it mean working fewer hours? Or working closer at home? Does it mean making a difference in the world, or working with a particular population? Do you want to be indoors or outdoors? In the city or in the country?
What are the elements that HAVE to exist in your new career in order to make it your dream? Make a list of them – because after your testdrive you'll compare what you have learned to what you said you really want. In your dream job euphoria, you may be inclined to overlook the fact that you said you wanted to work fewer hours yet your dream job requires round the clock attention. Stay grounded. You might decide later to forgo some of those 'essentials' but at least do it with your eyes wide open.
So think concretely about what you need to leave your testdrive with.
QUESTIONS FOR THE MENTOR
Here are some of the things you'll want to ask your mentor. Your own list will grow as you prepare for your visit.
Skills
What skills do I need in order to succeed in this profession. Which do i need to learn or strengthen? Can I master them enough to truly succeed?
You've talked to me and watched me work; do you think I'll be able to perform this work well enough to succeed? (hard as it is, ask your mentor to be honest; there's no point pumping time, energy and heart into something for which you're not well suited).
Time
How will I spend a typical day? How many hours will I have to work? Will that change with time? Will this job afford me the lifestyle that I want?
How do you balance your work and non work life?
Money
How much money does it cost to become qualified for my dream job or to set up my own business if that's part of the dream? How much can I expect to earn initially and down the road?
Do you have advice about getting a loan or working with bankers?
What are the biggest expenses? The most unpredictable expenses? The hardest to control expenses?
Which expenses can I defray and which are essential at start up?
What can I expect to earn at first? Down the road?
How long did it take you to break even? Earn a profit?
What did you earn at first? What do you earn now?
What were your biggest money mistakes?
What has helped you maximize revenue and reduce expenses?
Would you be willing to let me see your business plan? Your annual budget?
Technical Issues
What do I need to know about equipment, purchasing, location, suppliers, processes, etc?
What ongoing training do you recommend?
Are there any mistakes you have made that I can learn from?
Marketing
How do you attract customers? What works well? Less well?
How do you determine prices?
What were your biggest marketing mistakes?
What was your biggest marketing success?
General
What were your biggest surprises?
What was your hardest time?
What is hardest for you on an ongoing basis?
What would you do differently if you were starting over?
What is the biggest obstacle you think I'll face?
How would pursuing this job affect my spouse or partner? Our kids? Our extended family?
What should I absolutely do?
What should I absolutely not do?
What else should I ask you?
Career Path
How did you get into the profession?
How can i break into the profession? What can I expect my path and timeline to be?
Next Steps
What are the next steps I need to make to move forward?
Do you have contacts who can help me?
Are there other people you recommend I speak to?
Are there organizations in this profession that I should join (or stay away from)
CHOOSE A CHEERLEADER
One of the most intimidating aspects of pursuing a dream career is the sense that you're doing it all alone. Behind you is the security of the existing job and company, paycheck and lifestyle; in front of you is …. who knows? You feel as if you're standing at the edge of a cliff and all the people with safety nets are behind you.
Well, that isn't really true. As you move forward through the process, numerous people will come forward to support you. You'll find mentors who can help you learn the ins and outs of the business. As you pinpoint each new need you will find people to help you meet it, and those people will come to feel like trusted advisers. One day you'll look around and realize that you've created an entire support network to guide you forward. You will not be doing it alone.
But that's all in the future. For right now you need to choose one person – just one carefully selected person – to be your main cheerleader. This person will be your primary support through the entire process – the person you lean on when things get tough, the person whose judgment you know you can trust, the person whose vision of your future will remain unclouded even when yours starts to blur. Your cheerleader will set deadlines for you when you procrastinate; she will remind you why you're doing this when you start to waver, she will ask probing questions that help you see the forest as well as the trees.
In fact one of the biggest reasons to have a cheerleader is that that person will be able to see things that you are too close to see yourself. You don't need a professional coach to play that role. Nor do you need someone with knowledge of your dream field. What you need is someone who is a good, intuitive listener, who can be objective, and who genuinely cares about you. You need someone who will set aside time to meet with you periodically throughout your transition and who will see this as a 'job' that goes beyond the parameters of an ordinary relationship. You should think of it as a job, too, and when you choose someone to fill it, you should evaluate candidates in your mind just as if you were hiring someone for a paid position. Don't consider just family and friends; go through your address book. Look for someone who has the right personality and skills.
When you've identified your candidate, describe the 'job' to her and ask if you can 'hire' her to do it. You won't literally hire her or offer her money; you just want to let her know how seriously you take this, and that, by agreeing, she's making a commitment. Tell her why she was selected; ask if she'll be able to give you time (perhaps monthly half hour conversations) over the next year. If it feels awkward or difficult to ask for this kind of attention, consider it from her point of view: she'll probably be honored that you asked.
Qualities to Look For in a Cheerleader
When you 'hire' a cheerleader, pick someone who:
you can talk to openly and easily about your feelings;
has a positive, 'can do' attitude and will encourage you to find ways past your hurdles, not become overwhelmed by them;
believes in you;
listens well and understands that this part of your relationship is strictly about you
is intuitive and can listen past your words to hear the deeper feelings and issues underneath
lives from both her head and heart; who can help you organize and pursue your action steps, but also understands the emotional importance of this change;
will not be afraid to challenge you when you get discouraged or when you lose your vision and focus; and
is not threatened by your determination to make a significant change.
Before you go on your testdrive, talk openly with your cheerleader:
let her look over your list of questions. Brainstorm together to see if you can think of others.
tell her your concerns. Her job is not to answer them but rather to validate them simply by listening.
encourage her to ask you questions as you talk about your dreams. Her questions can help you clarify your thinking.
Talking to your cheerleader should energize you and build your confidence. It should feel safe, supportive and constructively challenging.
LISTENING WITH YOUR HEART
So far, you've given a lot of thought to the information you hope to get before you leave your testdrive. But information is only half the story. The other half is how your dream job feels. After all, the whole point of doing a testdrive is to get into work you love, so a huge part of the testdrive is testing out the heart side of the package. Do you love being there? Do you feel that this is the work you are meant to do? Does some inner part of you sing while you're doing even the drudgiest part of the job.
That is what you need to monitor while you're there. And then you need to use your imagination. You need to imagine that you're doing those things every day – day in, day out – for years…. How does the job feel now? Talk honestly with your mentor about the 'yucky' sides of the job. Got a good handle on how much time she spends on tasks you would find distasteful. As how she deals with the parts of the job she doesn't love – or even like – and how she maintains her passion regardless. Then think deeply and honestly about how you would fare in the same situation.
Ask your mentor to play devil's advocate. Have her describe several common 'nightmare' situations and ask you what you would do in each. Encourage her to challenge your responses to make sure you see each situation in the most realistic light. Do you still think you want this job?
EVALUATING THE TESTDRIVE
A week or so after your testdrive is the time to start doing serious evaluation. Your feet will be nearing the ground, your head will be clearer, you'll be back in the real world, where you can make more calculated decisions. This is the time for asking yourself hard questions – and giving yourself honest answers.
The purpose of the evaluation is to determine if this is, indeed, your dream career. Perhaps you already know in your gut that it is or isn't. Do a formal evaluation anyway. Asking yourself the targeted questions below will help you look closely and honestly at everything you learned and will give you important information for going forward.
The hardest thing about evaluating your vocation may be being brutally honest. By the time you've done your research, found a mentor, talked it up with friends and family and done your dreamjob, you've invested a lot of time, energy and hope in this career. Consciously or unconsciously, you've created a vision of your future, and a big part of you is now counting on that vision coming true. That creates a lot of pressure to bend the career to what you want it to be – or to bend yourself to fit the career. This is a great time to get your cheerleader involved. Her job can be to help you resist that pressure.
As you think through the questions, ask your cheerleader to discuss them with you. Encourage her to push you beyond your initial answers, to probe the feelings underneath. She may hear things in your replies that you don't hear yourself and encourage you to be more honest than you might be on your own. If your cheerleader can't talk through the questions with you, write down the answers. Writing enforces a mental discipline that may make you consider your feelings more carefully.
A word of caution. As you do your evaluation, focus solely on how you FELT about your dreamjob. DO NOT – i repeat – DO NOT – consider the impact on your family or your finances, or the steps required to realize your dream career. Unless you're single and independently wealthy; pursuing a dreamjob is going to be fraught with family and financial implications, and there will be dozens of steps to take that seem all but impossible. Your 'yeah, but' voice will be all over that crying 'You can't do that! What about your family? What will you live on? But you don't know the first thing about running a business? Those are excellent concerns. They need to be addressed. But they don't need to be addressed right now. They don't need to get in the way of deciding if this is really the job for you. If this is the perfect job, you can work on finding a way past those hurdles; if it's not your dream job, there's no point wasting energy on them now. So do yourself a favor; don't sideline yourself before you even get started. Figure out how you felt about your dream job before you tackle the practical concerns, because often, when we really, truly want something, we find a way to make it happen.
Evaluating the Testdrive: Ask Yourself….
What did I love about this dream job?
What surprised me the most during my testdrive? Does that change my feelings about the dream job?
What did I not like about this dream job?
What did I not like about this dream job?
Do I find myself thinking, if only X were not part of the package…? Is X so problematic that it reduces my desire or ability to do the dream job?
Can I do this dream job day in, day out?
What parts of the dream job are apt to get 'old' after six months or a year? How will I feel about the job then?
How does this dream job match up with my list of 'essentials'. If I sacrified essentials to pursue this dream job, would the sacrifice be permanent or temporary? Is the trade-off worth it?
NOT YOUR DREAMJOB AFTER ALL?
It is possible that your dream job was everything you'd hoped it would be. Start formulating an action plan to turn it into a career. But what if you found that your dreamjob wasn't as dreamy as you'd expected? Perhaps there were too many aspects of the job that you found unappealing. Perhaps the rigors of the job preclude the balance you want in your life. Perhaps you found that you don't want to own your own business after all, or you want to dabble in that area but not turn it into a career.
That is fine! That is all good news. It was precisely to get that kind of feedback that you went on your testdrive. The point was to learn those things now, risk free, before you invested years and money in a career you didn't love. Your goal, remember, was not necessarily to make this job your career, but rather to make yourself happy, to find work that serves your heart. Your testdrive has taken you a long way down that path. You learned how to research a career and find a mentor; you examined your values and lifestyle and determined what you want in a new career; you proved that you can stay true to yourself in evaluating future prospects. Most important, you've opened the door to change. This was not your dream career – but now you're a lot closer than you were before.
Acknowledging that your dream job wasn't your dream can be painful though. Not only is it disappointing, but it opens up a troubling question: Now What? If this isn't my dream career, what is? One of the pleasures of pinpointing and researching a dream career is that it gives you the beginning of a vision for your future. As long as you hold that vision you feel reassured; this is where I am heading; this is what I want to do; this is who I am. When that vision crumbles, that reassurance disappears. You find yourself looking into a hole where you once saw solid ground.
If you find yourself facing that hole, you may be tempted to continue pursuing the career you have been focused on rather than admit that it isn't right. But that would be penny wise and pound foolish. You began this process in order to make yourself happier and more fulfilled. Don't detour from that long term goal because of discomfort at this moment. You've already taken one of the hardest steps – overcoming the inertia of the status quo. You hatched a dream and made concrete progress toward it. Everything you've learned in investigating this career will help you find the one that is your dream.
Consider a Related Career. Before you completely write off this career, however, consider another option: perhaps there is a related career that suits you better, a career that has many of the elements you do want and lacks some of the ones you don't. So ask your mentor or others familiar with that field if they can recommend related jobs that may work better for your needs.
Reassessing Your Existing Job. Sometimes the best thing that comes out of a testdrive is not a new career but a new perspective on the old one. The greatest value of doing a testdrive is not the transition to a dream career, it is the insight you gain about yourself. Even people who never move to their dream careers find that the testdrive sparks a remarkable amount of growth and change. Simply going through the process requires you to assess your life, take stock of what's important and create a vision for the life you want. It forces you to break out of your mold, meet new people, and learn new things. It gives you a chance to watch yourself in an unfamiliar setting, seeing how you respond and how others respond to you. It provides you a mentor and a cheerleader whose insight and honesty help you see things you might not otherwise see. The process of testdriving helps you reconnect with your deepest self, that place where dreams are kept, so that you can choose to live in a more whole way. So whether you decide to pursue the career you had a testdrive in, or a different career, or make no career change, at all, consider your testdrive a success. You will have given yourself an experience that has the potential to change your life.