The Heroine's Journey Today is author and speaker Peter de Kuster' answer to the question, How can you be the storyteller of our own life and make money doing what you love in these turbulent times as a creative professional? Covering categories from Storytelling, Creativity, Innovation and Leadership to Self Promotion, Creative Confidence and Creative Freedom, here are hundreds of his best stories.  
'Miss Juneteenth'
Channing Godfrey Peoples presents a touching portrait of a mom's dream deferred—and also gives a much needed history lesson on Juneteenth. Even though Juneteenth has been celebrated for more than 150 years, it's never been absorbed in the greater canon of American holidays. Living in Europe i had not heard about it until this week.
Also known as Jubilee Day, Juneteenth marks the day on June 19, 1863 when slaves in Texas finally achieved their freedom two years after the Emancipation Proclamation went into effect. There's an added resonance this year for a movie like Miss Juneteenth.
Directed by Channing Godfrey Peoples, Miss Juneteenth follows Turquoise Jones (Nicole Beharie), a hardworking mom barely getting by with her 15-year-old daughter Kai (Alexis Chikaeze). But Turquoise sees a way for her daughter to have a better life by pushing her into a Miss Juneteenth pageant, a real-life competition where teenage girls compete for a title and college scholarships. As a former Miss Juneteenth herself, Turquoise is also subconsciously aiming for a bit of redemption, as her life didn't turn out how she expected.
"I was writing this story about a woman with a dream deferred," Peoples says. "We have to have diverse representation of stories about African-American life. But in particular, as a Black woman growing up in America, and especially in Texas, I wanted to tell this specific story about this Black woman's journey."
"Juneteenth is much about our ancestors finally getting their freedom, and I really wanted to portray that thematically with Turquoise's journey," Peoples says. "We've always been having these conversations in the Black community, and now these conversations are being amplified, unfortunately, because of these tragedies."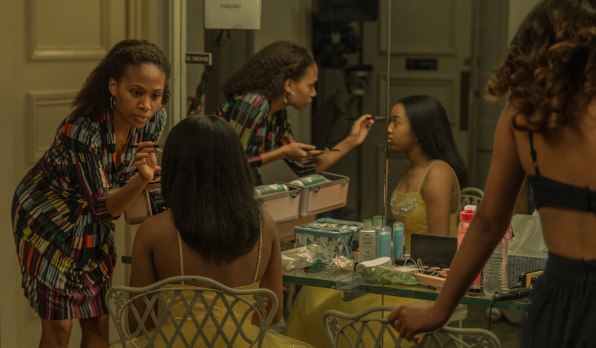 "My hope is that the film creates a space in a way for another Black story to be amplified and for more Black stories to be told and more Black voices to be heard," she continues. "And I don't mean just as far as movies are concerned, I'm talking about Black voices in the community and Black activists—people that are really on the ground doing the work. We should be listening to Black folks right now."
Watch the "Juneteenth" movie for free on youtube follow this link.