We travel The Heroine' s Journey in Paris – Testdrive Your Dreamjob in the footsteps of the famous American French Chef Julia Child. Mainly illustrated by the movie Julie & Julia where a young woman chooses Julia Child as her rolemodel. We will visit many of the places that Julia also frequented during her life in Paris. Julia Child has been described as America's French chef and is famous for her cooking, her books and as host of her acclaimed television show, The French Chef. Let's go find Julia Child's Paris together.
Julia Child moved to Paris with her husband, Paul Child, when his foreign service job took him to the French capital and from her very first Saturday in Paris, when she and Paul enjoyed a typical French breakfast, (café complet) of coffee and croissants at the famous Les Deux Magots cafe, she went on to explore the complex world of French cuisine.  
Both Julie and Julia captured our culinary imaginations in this classic 2009 movie. If you love French food and Paris you've gotta love this film. Julie and Julia weaves a narrative about Julia Child drawn from two books — Julia Child's autobiography about her time in Paris, My Life in France and Julie Powell's book, Julie & Julia: My Year of Cooking Dangerously about cooking her way through Julia Child's classic Mastering the Art of French Cooking.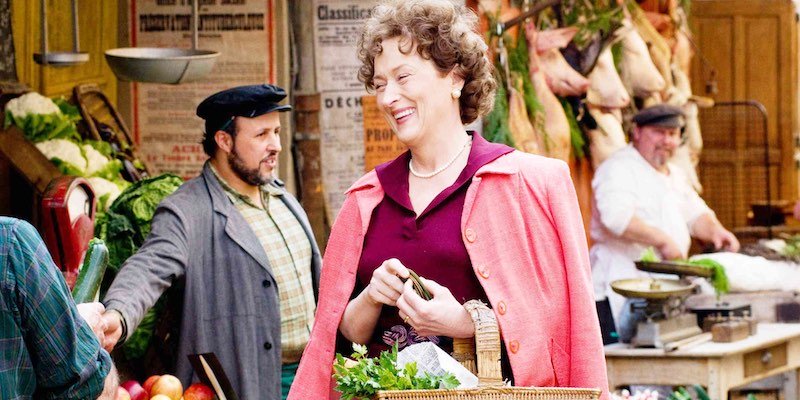 One of the biggest Paris scenes in the movie took days to plan and shoot on the narrow, winding market street of Rue Mouffetard in the Latin Quarter. For centuries there has been an outdoor market here, one of the oldest streets in Paris. And remember the scene where Julia takes her cooking students shopping? That was shot on the Paris islands, Île St-Louis and Île de la Cité.
Rue Mouffetard, 5th Arrondissement
Île St-Louis, 4th Arrondissement
Île de la Cité, 4th Arrondissement
Restaurant Deux Magots, 6 Place St-Germain des Prés, 75006
Restaurant Le Grand Vefour, 17 Rue de Beaujolais, 75001
Shakespeare & Company Bookstore, 37 Rue de la Bûcherie, 75005
Restaurant Au Pied de Cochon, 6 Rue Coquillière, 75001
E. Dehillerin Kitchen Supplies, 18 Rue Coquillière, 75001
Les Deux Magots, Shakespeare and Company and E.Dehillerin
As Julia became more familiar with Paris and visited the fresh food and flower markets, cafes and bookstores, she found herself regularly at the English bookstore Shakespeare and Company searching for books on French cooking. In time she became inspired with the idea of writing her own books on how to cook French food for Americans.
Starting her culinary journey by enrolling in Paris' famed cooking school Le Cordon Bleu, Julia spent many hours perfecting the recipes taught in school at home. Purchasing the essential cookware while a student at the Le Cordon Bleu cooking school was easy enough with many stores stocking essential items. One such store that Julia loved, and that still stocks everything you could possibly need, including a huge range of copper pots and pans is E. Dehillerin, which has actually been supplying Parisians with kitchenware since 1820.
Once you step into this old-world shop, you'll be surprised at just how modern and organised it is behind the scenes even if they don't look like they even know what a credit card looks like. With friendly service and a home delivery option, E. Dehillerin is one of my favourite Julia Child haunts.
Mastering the Art of French Cooking Volume I and II and The French Chef Cookbook
Recording her cooking attempts and wanting to share French cuisine with her fellow Americans, Julia started writing her own cookbooks that ultimately made her into a household name and inspired countless others to prepare French recipes and appreciate French food.
"Julia's legendary first cookbook (1961), co-authored with Simone Beck and Louisette Bertholle, launched her career and changed America. Born from Julia's discovery of her love for cooking and eating while living in France, Mastering the Art of French Cooking, Volume One is a comprehensive guide to the fundamentals of French cuisine. Considered by many to be one of the best and most important cookbooks of all time, it's an essential part of every cook's library." – The Julia Child Foundation
The next couple of books written by Julia also went on to wide acclaim – Mastering the Art of French Cooking, Volume Two (1970) and The French Chef Cookbook (1968) which is described as "for the millions more who have yet to see Julia Child's groundbreaking television series, this book contains the complete collection of recipes from the cooking show".
Rue Cler was an often frequented area with its restaurants and shops and Julia loved to spend time here. She also loved Au Pied de Cochon, the brasserie which is known for its round-the-clock service and onion soup. If you have time in Paris, I really recommend you dine at this brasserie as it's one of my favourites with an extra amount of side walk tables, vast menu and a very cute pink pig meringue served complimentary at the end of your meal, it is a Parisian institution. As the name suggests, pork is at the centre of its menu. The added bonus of dining at Au Pied de Cochon is that it is just down the street from E. Dehillerin.
Julia and Paul also liked to dine at Le Grand Véfour in the Palais Royal, choosing to dine there once a month being such a favourite. Le Grand Véfour, which dates back to 1784 is definitely worth a visit if want to follow in the footsteps of Julia Child.
During the Heroine's Journey in Paris – Testdrive Your Dreamjob in we wine and dine in the same historic cafes, visit fresh food markets, walk the same streets and buy your own cooking utensils with us.